Desiccated Coconut

___________________________________________________________________________
_________ _______
| Screening | | |-----------------------------------------|
| | | Dryer | Heat Exchanger |
| Machine | |_______|---------------------------| |
| | ________ | |
|__________| | | ----------------------------| |
| Dryer | Heat Exchanger |
|_______| ------------------------------------------|

______________
| Cracker |
|______________|
Packing | |
& | |
Storage | | Hot Water Conveyor
Area ___|___|________
| Sterilizing Tank |
_________ |___|____|_______|
| Wash | | |
| Tank | | | Cold Water Conveyor
|________| | |
________ ___|___|__ ________
| Wash | | Wash | | Wash |
| Tank | | Tank | | Tank |
|________| |________| |_______|

Layout Of Desiccated Coconut Mill In Malaysia
)

The Green whole matured coconuts are first plucked manually from the coconut tree in the producing area of Malaysia. The husks of the nuts is then removed by the farmers leaving behind only the internal nut with its hard shell. The husks which are removed are compressed and used in the manufacture of cussions for the furniture industry. The hard is then cracked and the water removed. The water is canned or packed and sold as coconut water. This hard shell is chipped and removed from the kernel. The hard shell shell is either grinded to coconut shell powder or coconut shell charcoal (activated carbon) . The next step is the removal of the dard skin which is also a usefull item in the producion of coconut oil with high FFA. This leaves behind only the white meat.

The white meat is washed twice once with cold water sterilized under hygenic methods and then with hot water under hygenic methods. This sterilized kernel is then sent to the cracker for disintegration and then to the dryer. The product is then desiccated coconut. The desiccated coconut is cut to sizes and goes to the sieving machine to separate it for the different sizes and grading. The ready desiccated coconut is then packed in inner polyliner with outer 4 ply kraft paper bags for shipping and delivery locally or the international export market.



General Specifications For Malaysian Desiccated Coconut ( High Fat)
| Test  | Method | Result |
| --- | --- | --- |
| Protein (n x 6.25) | Fosfa method |  Min  8% |
| Fat content | Fosfa method | Min 60 % |
| Moisture content | Fosfa method | Max 3% |
| FFA ( Lauric acid) of extracted oi | Fosfa method | Max 0.15% |
| Total e-coli (45%C/48hrs0, MPN/gm | AOAC 46-016 | Negative |
| Salmonella organisms in 25 gm | iso 6579 FDA-BAM | Negative |


Packing : 50 Kgs per inner polyliner outer 3ply kraft paper bag, or 7-25 kgs inner polyliner outer kraft paper bag
Rainfall : Based on 30 years average figures, Main season rainfalls begins in August and reaches its peak around the months of November and December each year. Off-season rainfall begins in March and peaks in the month April each year. During Main season rainfall most of the low lying areas producing coconuts are flooded.
Coconut Season:
High seasons are in May to Sept and peaking in the month of June & July.
Low Season is always in ther months of December , January & February.
Total acreage developed for agriculture in north Malaysia 315,500 acres.
Total acreage developed for coconutcultivation in north Malaysia 98,500 acres
Under large estate cultivation 25,000 acres
Under smallholders cultivation 73,500 acres
Average Copra yield = 1 ton of copra per acre
Draft palms = 5,000-9,000 nuts per ton of copra
Tall palms = 4,000 - 6,000 nuts per ton of copra
Other main producing countries are Indonesia, Philipines,Srilanka & Ivory Coast.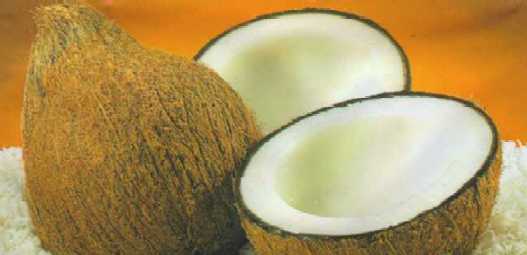 ; &nbsp